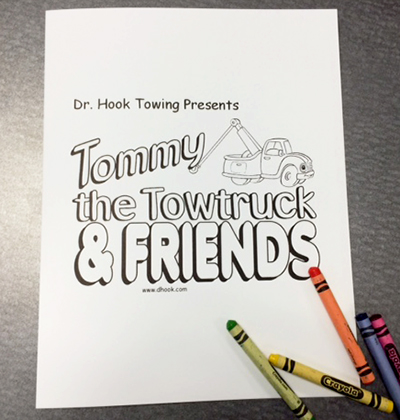 The whole team at Dr. Hook Towing does our best to support the community whenever we can. Earlier this summer, we recently visited the Munroe Early Childhood Education Centre. The children got to climb into one of our 35 ton heavy tow units and sit in the driver's seat. We also provided our very own Tommy The Tow Truck colouring books and crayons for the kids. Munroe Early Childhood Education Centre is in the process of rebuilding their play structure from scratch. When they contacted us regarding a donation to the rebuild their play structure, we were more than happy to help. We will be donating a tire to support their backyard play area.
We look forward to seeing the final structure!
Want a free colouring book?
If you would be interested in receiving free Tommy The Tow Truck colouring books, please contact Dr. Hook Towing
Or visit our office at:
Dr. Hook Towing Services Ltd.
75 Lowson Crescent
Winnipeg, Manitoba
R3P 0T3
Ph: 1-204-956-4665 (HOOK)