By now, you're very familiar with Dr. Hook's capacity to tow cars and trucks across Winnipeg.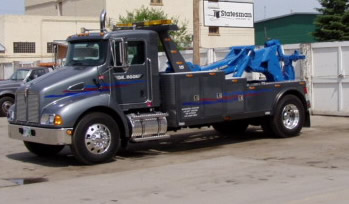 But our tow capabilities go far and beyond the types of company vehicles you might see on the road normally – we've towed everything from buses to big rigs.
This is where some of our specialty divisions start to be dispatched.
Medium Duty
This is the starting point for some of the bigger vehicle tows.
Some of the past work for our medium duty trucks have included extraction of work vehicles from submersion on job sites or in problem areas such as deep snow, mud or ditches. We've also used our Medium Duty vehicles to assist in tows for disabled busses and vans.
Heavy Duty
From tractor and trailer towing to wreckmaster certified operators, our heavy duty division is able to winch vehicles up to 1 million tons. Likely, that's more than we'll ever have to do for your Winnipeg company, but we're up to the challenge that you may throw at us.
Air Cushion Recovery
You may not believe this until you see it (but we hope you don't have to).
This technology uses large air-filled cushions to lift turned vehicles – from cars to 5 ton trucks – getting them upright on the road. This unique process has even been used to lift sunken airplanes and even lift and level cottages!
To learn more about our commercial vehicle assistance capabilities, call Dr. Hook today at 204-956-4665 or fill out our contact form now.