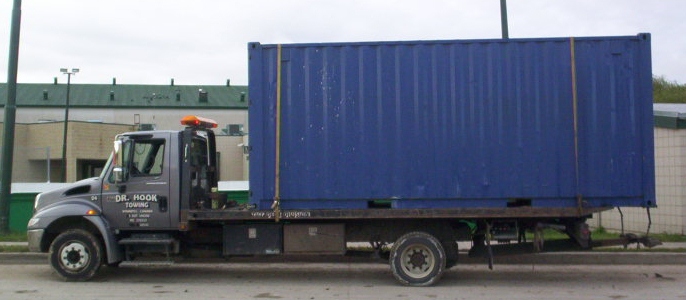 We've been in business for over 35 years and we respond to over 100,000 service requests each year. Dr. Hook has the best team of over 100 of the most qualified individuals to respond to these requests. Our fleet is large, and in-charge, and consists of more than 11 Heavy Duty Trucks, numerous Medium and Light Duty trucks, over 20 Tilt Deck Trucks, a Trailer Division, and an Air Cushion Recovery Division.
Tilt deck truck towing is one of the many services we are always proud to provide to our customers. We operate 17 standard units for loads up to 10,000 lbs (21 foot deck), 1 heavy-duty unit for loads up to 30,000 lbs (26 foot deck) and 2 units capable of 15,000 lbs. Ground and dock loading is available. We are able to haul campers, boat trailers, quads, motorcycles, golf carts, utility sheds and more.
If you need your Sea or Shipping container moved to be loaded on to a boat or for rail, trust Dr. Hook for safe and efficient delivery. Before loading your shipping container on to our tilt truck, we make sure that the container doors will be in the correct position. We also load and unload from semi-trailers, docks or warehouses.
We carefully load your shipping container onto our tilt truck. All of our operators are certified and insured, which guarantees that the shipping container and the cargo it contains safely reaches its destination. Upon delivery, we make sure the ground is level and there is enough clearance for the tilt truck to remove the container.
Dr. Hook Towing provides regional and long-haul delivery throughout Canada and the U.S. To receive a quote for tilt truck towing, call us 24 hours a day Toll Free 1-800-561-4665.