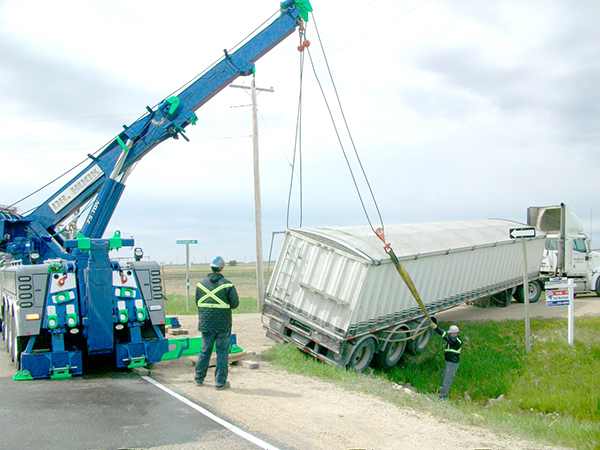 At Dr. Hook Towing, we have the best equipment, trained WreckMaster certified staff as well along with helpful personnel. Our team makes sure your heavy-duty towing needs are met so that you can be back on the road within no time.  We are a family company and are committed to helping fleets and owner operators by building long-term relationships. If you are faced in an accident or breakdown, you can rely on Dr. Hook Towing to be your heavy duty towing provider.
We provide service throughout Manitoba since some areas have limited accessibility to heavy-duty recovery services. If you're your needs extends outside of the province, we offer long-distance towing and recovery within Canada and in the United States.
All highways and roads are serviced such as:
Highway to USA (75)
Highway to the North (6)
Manitoba Highway 16 (Yellowhead Highway)
Trans Canada Highway 1 (Manitoba Highway 1, Manitoba PTH 1, Trunk Highway 1)
Provincial Trunk Highways (PTH 100 and PTH 101)
Our fleet of ten 3-axle hydraulic wreckers can lift 1, 2 and 5 ton vehicles including semi-trucks, trailers, RV's, motor coaches, vans and buses. As well we can also provide Air Cushion Recovery for overturned tractor/trailers, vans or tankers. This method is ideal for trailers that are hauling sensitive or fragile cargo.
Our heavy duty services include:
Tractor & trailer towing
Decking and un-decking (bunking & un-bunking)
Lifting of sunken trailers
Motor Coach & RV towing local & long distance
Air Cushion Recovery, tractor service
Emergency and Scheduled service, direct dispatch 24 / 7
Insurance and accident towing & recovery, itemized invoicing
Up to 1,000,000 lbs. of winching
All services provided with "certified" operators and fully "insured" units
Our services are available 24 hours a day, 7 days a week. If your trucks or trailers require heavy duty recovery or if you are in need any of our other services, contact Dr. Hook Towing.