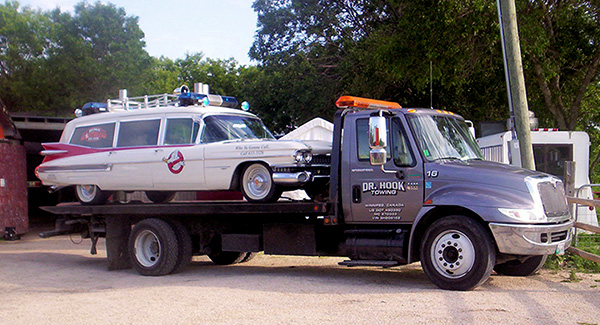 As part of our ongoing efforts to become the towing company of choice, we've equipped our fleet with 19 tilt trucks. A Tilt truck has a bed that can be extended and lowered, so that the load can be pulled up with a winch and secured.
When you tow a vehicle conventionally, two of it's wheels are on the ground, or at best supported by a small dolly. This can cause wear and tear to the vehicle being towed, and leave it vulnerable to damage caused by road hazards.
Not every vehicle is capable of being towed conventionally. Modern all-wheel drive vehicles are particularly susceptible to damage from "wheels down" towing methods. When one end of a vehicle is raised, the angle at which the other wheels contact the roadway is not always optimal for the car, and damage may result.
A tilt truck is a flatbed vehicle that will tow your car with all of its wheels off the ground, secured to a platform on the back of the truck. As a result, your car "floats" on the truck, several feet above the road.
Tilt trucks are perfect for long-distance towing, moving of derelict vehicles, cars under restoration, and vehicles that are just too valuable to make the journey under their own power. And our trucks aren't limited to automotive cargo, either. We can carry motorcycles, ATVs, and even things without wheels – if it fits on the platform, it can be moved – think about a completely assembled garden shed, swing set, or other large object that's impractical to move any other way.
To get the services of one of our tilt trucks or for towing & recovery needs, call us 24 hours a day Toll Free 1-800-561-4665. We have 18 units capable of handling loads up to 21 feet long and 10,000 pounds, and one heavy-duty unit that can carry 25,000-pound loads up to 26 feet in length.