When a call comes from the Winnipeg community, Dr. Hook Towing answers with enthusiasm. We consider it an honour to help organizations throughout our city with their charitable projects that help others. Over course of the next few blogs, we'll be sharing with you the stories of organizations who we're happy to support in Manitoba.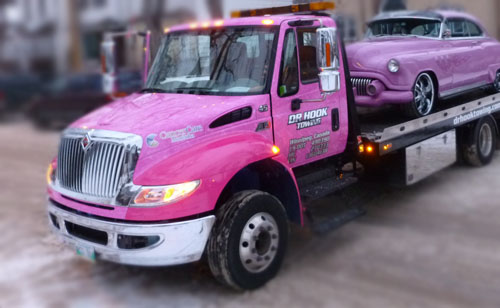 Answering the call of duty is more than just an opportunity to help a Winnipegger in need of a tow – it also gives us the chance to give back to our community and loved ones.
Such an opportunity exists for us this month.
As you may already be aware, October is Breast Cancer Awareness Month. Breast cancer currently ranks #2 in leading causes of death amongst women in Canada, accounting for 5,100 passings in 2012 alone. It is also the number one incedence rank. (All statistics courtesy the Canadian Cancer Society.)
Dr. Hook is proud to be part of the fight against this deadly disease. In October, we will have our special pink Dr. Hook trucks on the road. Each time a Dr. Hook pink truck is sent out to assist someone in Winnipeg, a portion of its revenue will be donated to breast cancer research.
So be sure to look out for our special pink Dr. Hook trucks – each time you see it, know that our work is for a good cause.