When a call comes from the Winnipeg community, Dr. Hook Towing answers with enthusiasm. We consider it an honour to help organizations throughout our city with their charitable projects that help others. Over course of the next few blogs, we'll be sharing with you the stories of organizations who we're happy to support in Manitoba.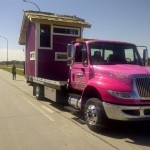 As you've seen from our blogs and videos, Dr. Hook has towed and transported items of a variety of sizes, primarily cars, trucks and other vehicles in Winnipeg.
On occasion, we'll be asked to help move a more unique item, say, for example, an airplane.
One of these requests came recently via Qualico Home Developments, and we were more than happy to participate.
Qualico, another fantastic Winnipeg company, had recently built a custom playhouse for a family through the Children's Wish Foundation of Canada. The Foundation, as noted on their website, "Children's Wish is a national non-profit organization dedicated to fulfilling a favourite wish for children diagnosed with life-threatening illnesses. Since its inception, Children's Wish has granted more than 18,000 wishes for children and their families and fulfills approximately 1000 wishes annually — granting nearly three wishes everyday."
Dr. Hook Towing was more than happy to load the playhouse onto our special pink truck and deliver it to the family. It was truly a heartwarming moment, one that we were proud to be part of.