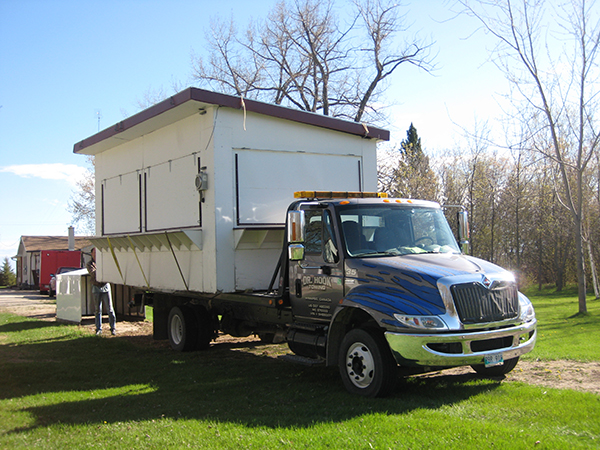 It's mid-May and even if temperatures are not what we would like today, looks like they will eventually heat up! If you are planning ahead and are preparing for the summer season, chances are you may need assistance in getting your larger items transported from one location to another. This is where you may require the services of one of our tilt trucks. A tilt truck is a flatbed vehicle that will tow your vehicle or equipment with all of its wheels off the ground, secured to a platform on the back of the truck. Our Tilt Deck  and Trailer has the capability to transport all types of equipment and items and aren't limited to just automotive vehicles. Tilt trucks are great for carrying items such as garden sheds, boat trailers, golf carts, campers, swings, utility sheds or other large objects.
We can transport your item within Winnipeg or we even offer long-distance towing. Best to contact us so we can discuss the details and provide you with a quote.
Our tilt truck fleet consists of 17 standard units for loads up to 10,000 lbs (21 foot deck), 1 heavy-duty unit for loads up to 30,000 lbs (26 foot deck) and 2 units capable of 15,000 lbs. Ground and dock loading is available.
Let us know if you are in need of our Tilt Truck services. We are available 24 hours a day, 7 days a week.