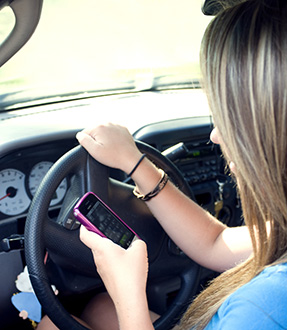 It's a story familiar in many jurisdictions – a disproportionate number of accidents are caused by the least experienced drivers on the road, and their accidents are worse, with more than the average number resulting in a serious injury or a fatality. 6.6 percent of British Columbia drivers are under 20 years of age, but they account for 14 percent of road accidents. Often, the problem is that inexperienced drivers find themselves distracted – they text or talk on the phone, eat, or even apply makeup while driving.
The province of British Columbia is tackling the problem with serious restrictions to the Graduated Licensing program that they have in effect.
Under the provinces GLP, drivers first get their L (Learners) license. They must drive only with the supervision of an experienced supervisor for a period of at least a year, before they can take a road test and graduate to their N (Novice) license. N drivers are subject to limitations, including a zero blood alcohol limit and no use of electronic equipment, even it it's hands-free. They must maintain a safe driving record for two years before they can take another road test for their full license.
Infractions of the ban on electronic devices during the L and N periods of licensing carry heavy consequences, including applying 3 penalty points to their license, which triggers a review. They will also have to restart the 24-month Novice period.
Since Dr. Hook provides emergency roadside service, we see a lot of accidents, many caused by distracted driving. It is great that provinces across Canada taking the measures necessary to educate drivers about the hazards of distracted driving.
Contact Us! For 24 hour tow truck service or roadside service, call Dr. Hook at (204) 956-4665 or Toll Free 1-800-561-4665.