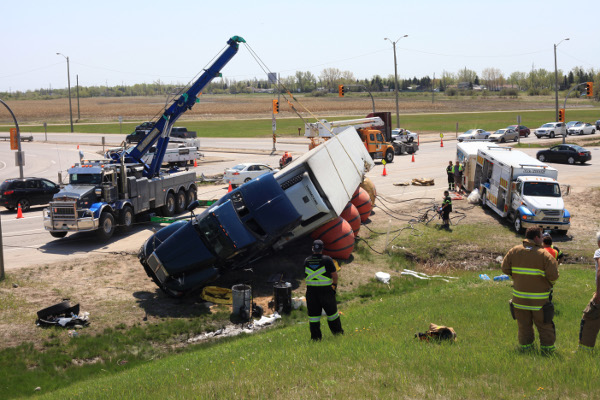 Dr Hook makes every effort to ensure the Health and Safety of our Employees, Customers and the Public.
Dr Hook has aligned itself with 1Life Work Safety & Health, one of Manitoba's leading Experts in Workplace Safety. This association ensures that all of our Employees receive all necessary Safety Training and Skills to perform their duties in a Safe and Healthy manner in accordance with the Manitoba Work Place Safety Act.
Recently Dr Hook and its Employees and their families supported the "Move Over Law" for Tow Trucks which was passed through the Manitoba Legislature in the fall of 2010. This Legislation makes it an offense for motorists who fail to move over for stopped Tow Trucks working on the side of the roads.
Each year 60 to 70 Tow Operators are killed on North American roads, making this industry the highest death rate per-capita second only to Law Enforcement Officers.
Training is by far our greatest investment in our people. Each Operator is trained in all aspects of their duties, and Certification is obtained through "WreckMaster" Internationally acclaimed and recognized as an Industry leader in Training and Certification.
Advanced training courses in Light and Heavy Duty Recovery, Rigging, Load Securement, and Dangerous Goods Handling and Transport are required, as well as training in the operation of Lift Trucks, Boom Lifts, Aerial Devices and Fall Arrest. All of these are provided to ensure Safety.
All our Operators are clothed in Reflective High Vis clothing year round. This ensures that they are visible by motorists 24 hours a day. Recent changes in the Manitoba's Work Place Safety Act require our Operators to possess and wear additional PPE (Personal Protective) items such as Hard Hats, Steel Toes and Safety Glasses. These items add to the Safety of our Operators. Operators are also required to conduct Safety meetings prior to beginning all complex recoveries in addition to preparing "JSA" Job Safety Analysis form documenting all Job Hazards.
All of these requirements add to the Safety of our Employees, Customers and the Public to which we remain Whole Heartedly Committed.
Dr Hook Towing Services Ltd
President
Nick Roscoe