Our Team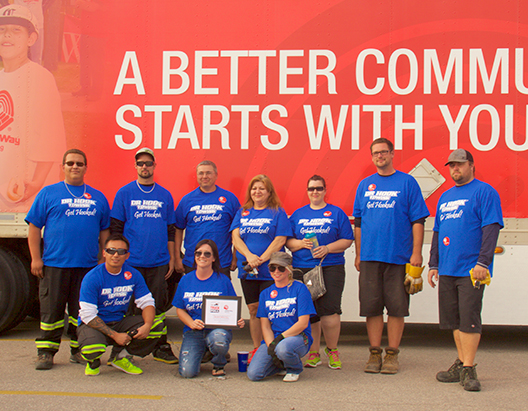 The individuals listed below have over 300 hundred Industry years experience; added to our other employees Industry years of experience we exceed 650 years of Industry experience. Currently no other Towing Firm in Manitoba has the industry experience of Dr Hook. Our Employees are constantly trained, upgraded, and Certified in all aspects of the Towing and Recovery Industry including extensive Training in matters of Safety. Our People and Industry Experience and make us leaders in our industry.
-Dr Hook Towing Services Ltd.
---

Nick and Julie Roscoe: Owners
Nick has been involved in the Towing industry for 40 years. He has owned and operated Dr Hook Towing together with his wife Julie Roscoe since 1982. The company has grown from a start of half a dozen trucks and 10 employees to nearly 100 Fleet vehicles and 120 employees. Nick has overseen the day to day operations and Julie heads up the Administration and Accounting offices. Together they have at least 70 years of experience between them in the towing industry, not to mention that this business operates 24 / 7/ 365.
---

Sheldon Sass: Impound Services Manager
Sheldon manages and oversees our Impound services for the last 15 years. Sheldon is responsible for vehicle disposition through Public Auctions and Compliance with Procedures set out under the Garage Keepers Act. Sheldon is also active in the WPA Lien collection process. He also supply's us with 5 Light Duty Tow units.
---

Ed Kirby: Safety / Hazardous Material / Environmental Supervisor

Ed has been associated with Dr Hook since 1994, Ed Started as Light Duty Operator, and then became "Wreck Master" Certified. He then joined the Heavy Towing and Recovery Division. Ed has since obtained Certification in the following: TDG (Transportation of Dangerous Goods Instructor), NFPA (National Fire Protection Agency) , HAZMAT Technician (HAZWOPER), Spill Management, JLG Aerial Platform Instructor Certified, National Defence (Unit Environmental and Hazardous Materials Officer). Safety Investigation Training (Safety Manitoba) and Oshkosh Fire Truck Factory Certified Technician. Confined Space Supervisor.
---

Colleen Sass: Admin Services
Colleen has been involved in the day to day operations for the last 20 years. She has had many responsibilities during this time and is currently the Head of our Accounts Receivable Dept., Chairman of the Workplace Safety Committee, and Director of our Drug Testing program and head of Driver Services.
---

Val Roscoe: Admin Services
Val has been with us for 25 years. She has held many positions within the company, primarily in Dispatch and Office Management. Val is currently a senior member of the Accounting Dept.
---

Shane Clifford: Operations Manager Tilt Decks and Tilt Trailer Division
Shane has been with us for 23 years, He originally was a Sub Contractor, then became a Lead Dispatcher and since has moved to be an Operations Manager. He is responsible for our Tilt Deck and Tilt Trailer Divisions and Driver Orientation.

---

Eric Roscoe: Heavy Towing Operator
Eric is involved our Heavy Duty Towing and Recovery Division. He operates our 75 Ton 5 Axle Rotator. He is Wreckmaster Certified Levels 6-7. He holds Certifications in advanced Rigging (Crosby) Emergency Response Rotator Operation as well as Air Cushion Recovery. Eric also supply's us with 2 Light Duty Units and operators.
---

Neil Doerksen: Senior Dispatcher
Neil has been with us for 15 years. He is our Lead Dispatcher and is in charge of Dispatching all fleet calls. He is well versed in our Digital GPS Dispatch system.

---

Wes Kaltenbach: Senior CSR
Wes has been with us for 25 years; first as a driver; then moved into the CSR position and is a lead CSR working for the Dispatch
---

Gab Benson: Admin Services
Gab has been with us for 22 years; she Supervises our Payroll and Payables Departments.

---

Brad Plourde: Senior Operator Tilt Trailer Division
Brad has been with us for 17 years. He started as an Owner Operator, and then moved into our Equipment moving Division. Brad is also a Trainer for Lift Trucks and Aerial Devices, He is also an active member of the Safety Committee.

---

Destiny Mc Callum: CSR Supervisor
Destiny has been with us for 17 years. She is a Senior CSR Supervisor, She also supervises our Invoice Verification Department.
---

Russell Roberts: Heavy Towing Operations Supervisor / Operator
Russell has been with us for 14 years. He started as a CSR; then transitioned to Night Dispatcher; he later moved to his current position as a Heavy Operator / Supervisor. He deals with the 15 different Operators in the Heavy Towing Division and ensures that our Operators are meeting our Customers' needs and expectations. He is Wreck Master 6-7 Certified and holds Certifications in Advanced Rigging (Crosby) Emergency Response Rotator Operation as well as Air Cushion Recovery.
---

Scott Rose: Senior Operator Heavy Towing Division
Scott has been with us since 1987 - 28 years, most of his time here has been in the Heavy Towing and Recovery Division he is Wreck Master Certified and also has Certification is Air Cushion Recovery and Advanced Rigging (Crosby).
---

Robert Roscoe: Senior Heavy Towing Operator
Rob has been with us since 2004 originally as an Owner Operator then he transitioned into the Heavy Towing Division, He is Wreck Master Certified and is Also Certified in Advance Recovery and Rigging (Crosby)